The Drifting Folks (2023)
In this "The Drifting Folks" exhibition, the artists Deville Dewil and Gardia Fiyero Manson made use of photography and dance improvisation to pinpoint the connections between Hong Kong folk religions, the city and people.
The exhibition showcases things that are seemingly completely different in nature, tall buildings, historical old temples, as well as human wandering on the edge of freedom. Perhaps there was no better choice, or maybe the way these things were assembled in this overcrowded city was simply destiny. A certain kind of harmony evolved from this unignorable existence. The exhibition also depicts a series of small objects, such as flowers and grasses, street signs, fences, wall and tiles to silently reveal the whole picture of the invisible Hong Kong folk beliefs.
Time flies, all the drifting folks eventually settle down and take root in one place, and folk beliefs grow with people. Where there are people, there are beliefs. The relationship between places, folk religions and people seems to be far away, yet so close.
在《The Drifting Folks》展覽中,藝術家Deville Dewil 聯同Gardia Fiyero Manson 以攝影和即興舞蹈點出香港民俗信仰、城市、人們之間的聯繫。
展覽一方面展出本質看似大相逕庭的事物,嶄新高樓、歷史古廟、在自由與不自由間遊走的人。在這稠密的城市內,或許是迫於無奈,又或許是冥中注定,有些極度不契合的東西拼砌起來卻無法被忽略,又生出某種和諧。展覽的另一方面由一系列小事物組拼而成,小花小草、路牌圍欄、牆壁瓦塊,都悄然烘托出沒能看見的民俗信仰全貌。
時代的齒輪轉啊轉。飄泊的人和事會於一處落定生根,民間信仰隨之依人而生,有人就有信仰。地方、信仰和人們的關係看似遙遠,實則似遠還近。
---
In Front of
2023
Photography
Set of Five
---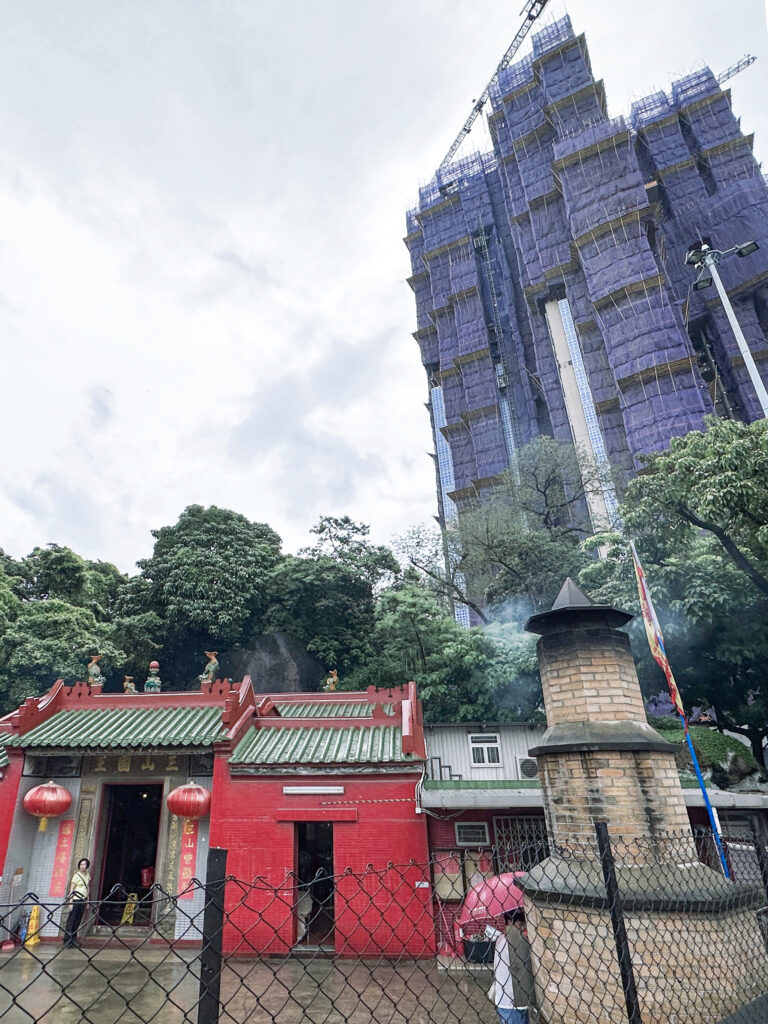 Above that
2023
Photography
Set of Four
---
Some Parts of
2023
Photography
Set of Sixteen
Photography by Deville Dewil, Performance by Gardia Fiyero Manson
---

The Drifting Folk
2023
Photography
Set of Five
Photography by Deville Dewil, Performance by Gardia Fiyero Manson
---
The Drifting Folks
2023
Video, Dance Improvisation
02'02"
By Deville Dewil & Gardia Fiyero Manson
---
Deville Dewil x Gardia Fiyero Manson 【The Drifting Folks】 Exhibition
Date: 202/6/24 – 7/23
Opening Hours:
Mon – Sat 1000 – 2200
Sun 1000 – 2100
Venue:
The Gallery by Coolistic
Room 1003, 10/F, Entrepot Centre, 117 How Ming Street, Kwun Tong, Kowloon
---
---