Fragmentation
在記憶殘骸中升起的…..
(2022-2023)
Fragmentation 在記憶殘骸中升起的⋯⋯
2022-2023
Installation (Video, 6 Gypsum Sculptures with Aurora Calcite, Clear Quartz, Garnet, Gibbsite, Kyanite, Laser Quartz)
Size variable
裝置(錄像、6個以極光方解石、白水晶、石榴石、三水鋁石、藍晶、激光柱水晶組成的石膏雕塑)
Exhibited in
HKBU AVA MA Graduation Show 2023 "Eccentric" | Academy of Visual Art, Hong Kong Baptist University, Hong Kong

English poems edited by Ishan Tse
---
Shattered
With the lost memories
Struggling in pain
The fragments
Manifest the shedload of souls
七零八落
在丟失的回憶中
痛苦掙扎
破碎的肢體又組成了七千八百個靈魂
---
"Fragmentation 在記憶殘骸中升起的⋯⋯" is an art practice-led research project. The project adapts an autoethnography approach to research, reveal and recreate the artist Deville Dewil's major life themes through the exploration of her dreams, and thus situating her experiences and bringing the life themes to a social context through the creation of the final installation artwork of a series of hand sculptures with natural minerals and videos of her Chinese poems. The different hands posture and the poems try to stimulate and provoke deep feelings and developing connections among audience and the artist.
Each hand sculpture is associated with a poem of particular life themes. The full length of the poem video is 3hours and 30minutes. After each poem shown in the video, the poem will become a light sphere, moving around and finally light up the respective sculpture.
The long durational video allows audience to sit at the other side of the artwork, slow down their speed, read the poems and think about themselves and their own life themes.
---
At the core of our humanity lies the intricate tapestry of emotions and experiences that shape our existence. What makes us human is our capacity to feel pain, navigate through struggles, and confront despair with unwavering resilience. These heart-wrenching moments, though agonizing, are integral to our growth and transformation. Just as a shattered bone heals stronger, our spirit mends and evolves, emerging as a new self.
The ebb and flow of life's challenges punctuates our journey, each trial a chapter in the story of our humanity, as if the story tells by each struggling, changing, and raising hand sculpture. The depth of our emotions, from heartbreak to euphoria, binds us to one another, forging connections that transcend time and circumstance. Through shared experiences, we find solace and camaraderie, acknowledging the universality of our struggles.
Ultimately, it is in our ability to rise above adversity, to heal, and to cultivate personal growth that the essence of being human truly resides. Our collective journey is a testament to the power of the human spirit, a relentless force that propels us forward even in the face of life's most daunting trials.
---
---
---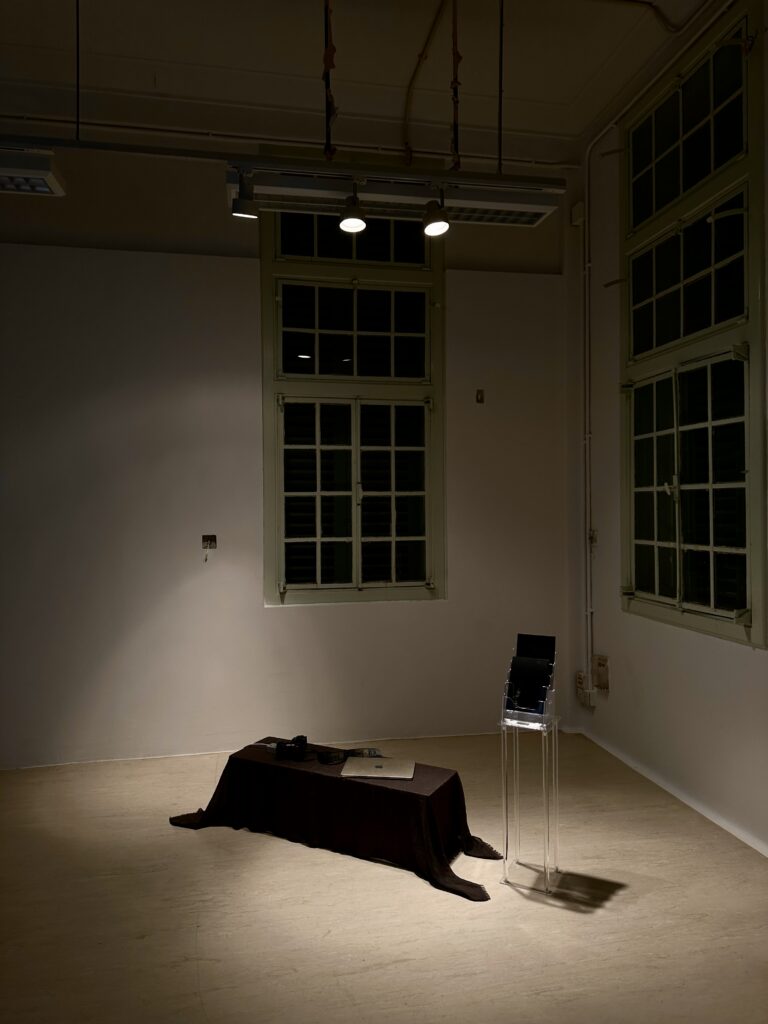 ---
褪去道理和常識
是乾涸還是自由
迂迴地思考
曲折的辯證
被褫奪的真相
終歸無法大白
刺穿良心
將身軀釘上十字
也無法被理解
Would it be emptiness or freedom that remain
When sanity and justification start to fade
Sinuous thoughts
Tortuous disputes
The deprived truth
Shall always be buried
Piercing through our hearts
Crucifying our bodies
But yet failed to be understood
---
開腸破肚
掏空心臟
求的只是能見天日
可悲的孩兒
為甚麼非得生於亂世
神啊 我只祈求一事
祈禱甚麼時候
能被聽見
Slaughtering themselves
Offering their hearts
Being seen is their only wish
Poor child
Why hast thou been born in the worst of times
Dear God, 'tis my only wish
For my prayer
To be heard
---
反覆無常的上帝
捏做所謂完美的身軀
卻非得使我們支離破碎
破碎的玻璃心
成粉
成塵
歸於土
再被捏做成人
Capricious God
Crafted the alleged body of perfection
Solely tore them to shreds
Shattered heart
Into pieces
Into dust
Returned to the Earth
To be crafted as human again
---
早上劃破皮膚
的血珠
在指間
找到晨光
原來
說有光
當真會有光
Till dawn
Droplets of blood seared through my skin
Crepuscular rays shine between my fingertips
O Lord
'Tis when I pray for the light
There shall be light
---
纏繞氤氳霧氣的雙眼
穿過虹光
又能否見到天堂
那門扉僅一期一會
啊 瞥見了
Blinded by the murky mist
Seeking through the aura
Shall Heaven be seen
Once in a lifetime shall The Pearly Gates open
Alas
A glimpse is all it takes
---
從記憶殘骸中升起的
手
每每緊握
定會被碎片刺痛
血流滿一地
將石子返還土地
天空或會予以極光
冰川或會淨化祝福
Hands
Rising from the fragments of memories
Holding tight
Pierced by the shattering pieces
Blood flooding across the land
May the stone be returned to the Earth
Shall the aurora soars the sky again
Blessed be the glacier
As thou'st been purified
---